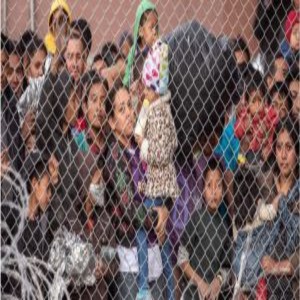 In 29 May 2018, President Donald Trump condemned Democrats who had shared pictures of immigrant kids in cages in 2018 and linked them to Trump's immigration policies.
Later, the president backtracked when he found out that the pictures were taken when Barrack Obama was president.
Trump Tweeted, 'Democrats mistakenly tweet 2014 pictures from Obama's term showing children from the Border in steel cages. They thought it was recent pictures in order to make us look bad, but backfire.'
These photos had been released as evidence of the Trump administration's cruelty on immigrants, specifically children.
For weeks after, mainstream media including NBC News, CBS, Time Magazine, Business Insider, among others had the time of their lives calling the detention facilities holding the immigrant children 'cages.'
One Senate Democrat even went a step further and called the centers 'dog kennels.'
What doesn't make sense is that the press was silent during the Obama administration when the facilities were initiated.
What came to light later is that these were actually Obama-era photos and their release was meant to make Trump's government look bad.
Liberal activists had intended to use the photos as if they showed the effects and condition of the current immigration situation under Trump.
Originally shot by photographer Ross D. Franklin for the Associated Press, the photos were from June 18, 2014 at a Customs and Border Protection (CBP) placement center in Nogales, Arizona.
The pictures of immigrant kids in cages in 2018 were first linked to an online story in June 2014. The story, titled 'First peek: Immigrant children flood detention center' was published by The Arizona Republic.
Apart from the Nogales center, there was another facility in Brownsville, Texas and both centers held 47,000 unaccompanied children waiting processing.
Interestingly, not knowing that the detention centers were the brainchild of the Obama administration, many Democrats jumped onto the bandwagon to criticize Trump after the photos were released.
One such case involved Jon Favreau, a speechwriter for President Barrack Obama. Favreau Tweeted, 'This is happening right now, and the only debate that matters is how we force our government to get these kids back to their families as fast as humanly possible.'
Another Tweet from Antonio Villaraigosa, former Los Angeles mayor said, 'Speechless. This is not who we are as a nation.'
After it was found out that the photos were from the Obama-era and the error was pointed out, Villaraigosa, Favreau, and others who had taken advantage of the photos to discredit the Trump administration deleted their Tweets.
Thomas Homan, Obama's executive associate director of Immigration and Customs Enforcement for around four years said that the cages that the Democrats were accusing Trump of detaining immigrant's kids in were conceived during Obama's term.
Homan said, 'I've been to that facility, where they talk about cages. That facility was built under President Obama under (Homeland Security) Secretary Jeh Charles Johnson. I was there because I was there when it was built.'
In another twist to the story, it shows that these immigration measures of placing immigrant children in cages predated even the Obama administration.
In 2008, Congress unanimously passed a law that stated that 'children traveling alone from countries other than Mexico or Canada must be released in the "least restrictive setting" — often to family or a government-run shelter — while their cases slowly wind through immigration court.' This law was signed by President Bush came about amid concerns on how border control officials were treating immigrant children.
What did the U.S Justice Department have to say about the photos of immigrant children in cages?
According to the Justice Department, it follows a zero-tolerance policy regarding the arrest of illegal immigrants. The policy prosecutes all illegal immigrants crossing the border.
Now, in their defense, the Justice Department says that children cannot be held in the same detention facilities as the adults, they are often separated.
In May 26 2018, President Trump Tweeted in relation to children being separated from their immigrant parents and seemingly placed the blame entirely on the Democrats.
While calling for stricter immigration laws, part of the Tweet said, 'Put pressure on the Democrats to end the horrible law that separates children from their parents once they cross the Border into the U.S.'