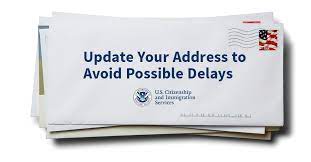 Under the rule of President Donald Trump, the United States (US) immigration program has experienced significant transformation by enhancing and introducing immigration reforms. As a result, the process of lawful immigration has become even more challenging and tough for new immigrants. United States Citizenship and Immigration Services (USCIS) is one agency executing these changes by a blend of rules, strategy memoranda, and operational changes.
A hallmark of this new focus on immigration is implementation of current rules. Immigrants are required to stay informed about the recent developments and obey the legislation and policies introduced and passed by the US authorities Some foreign citizens and migrants unconsciously or inadvertently fail to comply with basic rules and regulations which leads to serious consequences. A directive which is commonly disregarded and carries ramifications is notifying the USCIS of a change of address. This write-up explores this issue in detail below.
Should I need to inform the USCIS of a change of address?
It's not only critical to inform the USCIS about your change of address in the course of the immigration procedure to make sure that you receive up-to-date details concerning your case, but it is also required by law Your failure to alert the USCIS when changing your address will lead to set backs in a case resolution it can additionally get you even deported, and is by law termed as a felony You always require to apprise USCIS of the new address even if you've presented a fresh immigration appeal or request that displays your current address. The reason for this is that the records of the address change are stored in a different database, which does not necessarily synchronize with the sections of the USCIS deciding your benefit appeal.
Who is required to communicate a change of address?
The majority of Non-U.S. nationals otherwise referred to as aliens, who live in the U.S are obligated by law to provide their new address to USCIS inside 10 days of moving. (8 U.S.C. § 1305.) The duty report includes lawful permanent residents, even if you have a 10 year card. It is also mandatory for people regarded as special registrants.
This might look like an impossibility yet even some US citizens are required to provide updated address details too.
If a US Citizen is a sponsor on form I-864, financial affidavit of support, the citizen is required to notify the USCIS via form I-865 of a change of address USCIS wants to make sure that if it wants to pursue the US citizen for support, it can trace him or her.
However, there are departures from this common rule of reporting a relocation They are
1. Diplomats (visa status A)
2. Official international government representatives (visa status G)
3. Some non-migrants who have been living in the US for less than one month with no visa.
How can I communicate a change of address?
Some applicants may decide to present a virtual change of address on the USCIS web site, the online form AR-11. The website will require you to submit the information needed and will produce a final verification of the address. Good practice dictates that you retain a copy of this USCIS receipt in case of USCIS error. Not all persons are allowed to present the change of address via the internet including victims of domestic abuse, trafficking, or other crimes.
Another way is to fill in and print out Form AR-11 and mail it (preferably with a tracking) to the address listed on the USCIS site. Moreover, if you submit the request of changing your address through the mail and dispatch any applications that are still being processed to USCIS, it is also advisable to send a letter to the office that handles your application to inform it that your address has changed.
What if I fail to update my new address?
Under the law, knowingly (intentionally) failing furnishing the USCIS with your new address is a violation that can be punished with a fine and some time in jail. If you unknowingly fail to provide your new address to the USCIS or forgot to do so, you are required to give sensible excuse to the USCIS to escape a penalty. If you land in this position your best bet would be to talk about your case with an experienced immigration attorney.
Do it now! Update your Address with USCIS
After reading this article maybe you are thinking I should have filed a change of address with USCIS for my last move, but it is too late now? Wrong. Better late than never. Do it today. And next time you move, handle it when you move. Filing over the internet is a piece of cake and it will help you a lot of problems